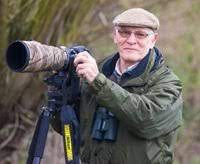 Venue
GBPS Zoom https://zoom.us/j/194253610 Meeting ID: 194 253 610
Malcolm tells us
My father was in the Canadian Army and was billeted in Newhaven Sussex England during WW2 where he met my mother. 
After the war, my mother went to Nova Scotia, Canada as a war bride where I was born.  We moved to Newhaven when I was 17 months old and stayed there until I was 6. 
We then moved to Corby, Northamptonshire where my father worked at Stewarts & Lloyds Steel Works and where I later served an apprenticeship. After completing my apprenticeship, I had a brief spell in the Merchant Navy before going to Zambia in 1973. 
There I worked as an Engineer in the Copper Mines.  On completing my contract, I visited Luangwa Valley Game Park but didn't have a SLR camera.  All I could find in Zambia was a second-hand Zenith B with a 50mm Lens. 
This was very basic with no auto focus or exposure meter, so everything had to be set manually.  That and the short lens made it less than ideal for going on safari. 
One of the first things I did when I got back to the UK was buy a Nikkormat Ftn2.  I then joined a Camera Club and built myself a darkroom.  I bought my first digital camera in 1999.  It was a Sony Mavica that recorded photos directly to floppy discs.  In 2009 I bought my first DSLR a Nikon D60 and later a 70 -300mm Zoom Lens and started to specialise in Wildlife Photography.  I gave my first Wildlife Talk in 2016.